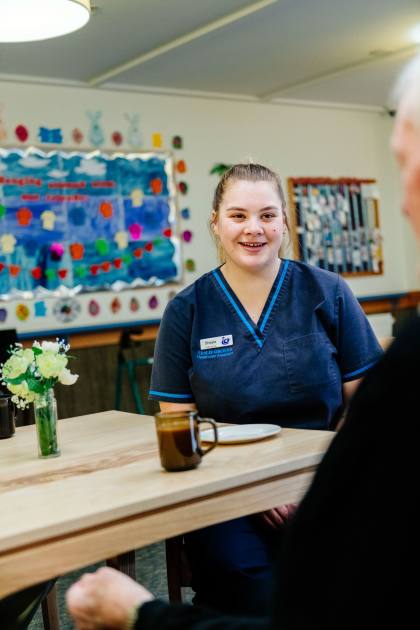 Meals and Refreshments
Our staff prepare daily breakfasts in each unit and we can meet most requests - even breakfast in bed! We have a large on-site commercial kitchen run by Cibus Food Services, Dunedin who provide freshly made daily morning and afternoon teas and two 'home cooked' meals served by our unit staff.
The menu changes for summer and winter and runs over a six weekly cycle. Menus are planned with the assistance of a dietitian to ensure that the nutritional requirements for all residents are met.
The kitchen can cater for individual diets e.g. diabetic, gluten free, pureed and try to meet individual requests wherever possible. Meals are generally served in the dining room. Some people do prefer them in their rooms but we encourage the social interaction of shared dining.
Special events can be catered for if the kitchen is notified well in advance. Please contact our administration team for details and to discuss your options.
Generally, personal preferences can be met, please discuss with staff. Some preferences may be outside our service and would have to be obtained at your own cost, for example oysters!