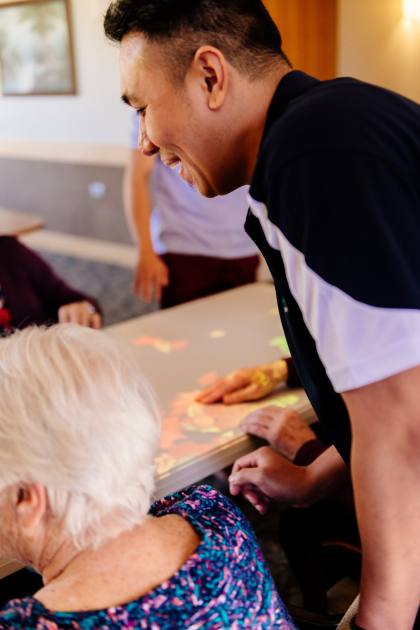 Tovertafel - Where the Magic Begins
Our interest in purchasing a Tovertafel (Magic Table) followed a conversation with a facility in the North Island, who had purchased one for their new building. We secured a Magic Table to trial from the Australia distributors and as soon as we witnessed the first resident interacting with one of the games we were sold!
The Tovertafel is ceiling mounted and projects multicoloured images onto a table or floor. Infra-red technology detects the movement of hands or feet which allows interaction with the projected images. Residents playing respond to the lights which in turn responds to their finger and hand movements. Sound also enhances the experience bringing to life rustling leaves, waves on a beach, or musical notes playing familiar tunes.
The Residents at Leslie Groves have certainly enjoyed the large selection of games available. Our Diversional Therapists report how amazing it is to see residents reactions. Some with reduced cognitive ability or who are generally shy and withdrawn start to react to some of the games – smiling, giggling and interacting with others playing.
The Magic Table is inclusive with a universal appeal and certainly has a very positive influence on our dementia level residents allowing them to experience lost or fading memories. One game, Autumn leaves, has residents moving leaves around the table and listening to the rustling sound they make: the Diversional Therapist weave in stories around childhood memories of running through mounds of golden leaves. During autumn leaves from our grounds are placed on the table to increase the tactile experience.
The Magic Table offers a variety of intuitive games to suit varying levels of dementia, but it's actually more about the activity taking place and bringing everyone together. The reaction from our residents is where the magic really begins.